Technology as a Tool for Thinking
A grade 3 teacher invited me in to his class to help his students learn a Notability workflow and start to consider the different rights and related responsibilities we have.
Workflow
Students brainstormed rights and responsibilities they had and jotted their ideas on sticky notes
Students categorized them into rights and responsibilities related to self, home, local community or world
The teacher created shared a template with categories using Word
Teacher shared the Word document with students using Google Drive
Students opened Google Drive and accessed Shared with Me
Find shared template and click on i
Open in – Open in – Notability
Students reviewed each category on the walls and selected the two rights or responsibilities they felt were most important
In Notability students added text boxes and used voice-to-text or keyboard to add the two most important to their template
Students sent work to their own Google Drive as pdf
Students oped the Shared folder and uploaded their pdf from their own Google Drive to the folder shared by their teacher
Because the teacher had Google Drive running locally on his computer, he could drag all student pdfs to his print cue and print all student work at once
Reflecting on this lesson using the Visible Thinking Routine: 3-2-1 Bridge – A routine for activating prior knowledge and making connections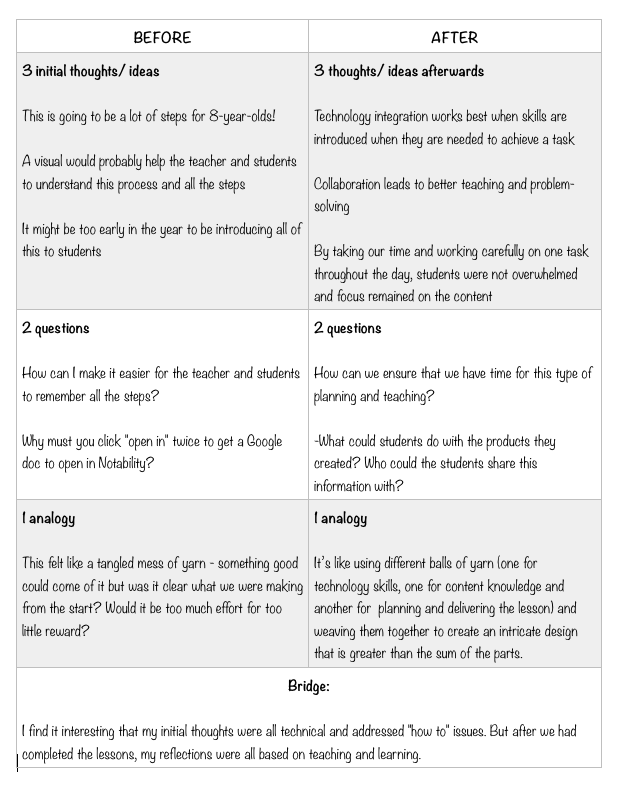 This lesson was a good example of putting TPACK (technological, pedagogical and content knowledge) into action. We focused on the task we needed to complete and introduced the students to some tools that would help us achieve it.
If we consider SAMR, this was really just a substitution activity (maybe modification if we include how students used the voice-to-text capabilities of the iPad and sharing work via Google Drive). But considering we were only 2 weeks into grade 3, and part of our goal was to learn the workflow, this seemed appropriate.