Web 2.0 Coffeehouse
Coffee is something near and dear to me. I often plan my day around where to get a GOOD cup of coffee. I don't care about the caffeine content it's all about the cup o' joe. It can't be just any ol' coffee: it's got to have flavour but not burnt taste, body but not acidity. And if it can be had in a really comfortable place to sit, chat, work or watch the world go by then all the better!
http://api.soundcloud.com/tracks/9558086
Instead of working this weekend I have been playing around with a visual that I really enjoyed creating. I remembered hearing how Mozart used to visit the coffeehouses in Austria. I did some reading and found that during the Age of Reason, coffeehouses were the place to be to get your fix of the news of the world, socialize with others, collaborate and/ or receive feedback on your work.
As I did some more reading I learned that the London Stock Exchange may have started in a coffeehouse and that games such as chess or billiards were common in European coffeehouses. That all reminded me of the Internet today and, particularly, Web 2.0. It's certainly a place for socializing, playing games, being entertained, collaborating and getting feedback on your work.
Finally, my submission for Assignment 3b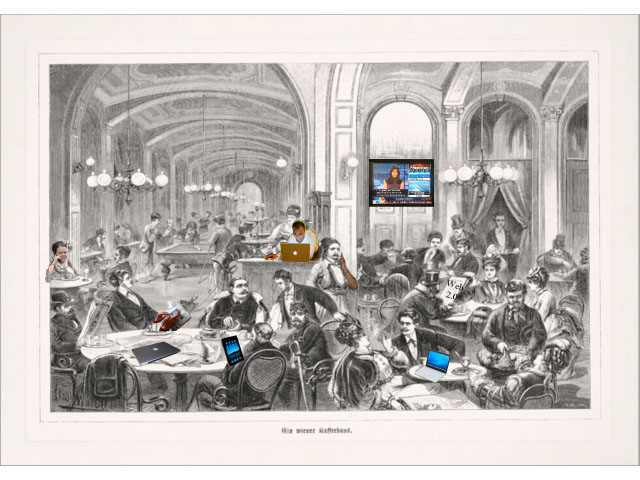 The Web 2.0 Coffehouse was fun to create. I just used Pages and "instant-alpha-ed" the backgrounds out of the images I wanted to add. I wasn't able to save that as a jpeg so, without losing too much detail, I first moved it to Photoshop (which I find too tedious to work with).
I thought that I'd like to add some sound and/or video to it so I decided to give Glogster a try. Glogster was pretty easy to use and set up but their default of publishing all personal information was really annoying. I thought about just adding cafe sounds but then I found a song and video called Media 2.0. The iMovie graphics aren't great but the content seemed to suit the mood of the picture so I stuck with it. I didn't have the patience to embed this Glog here (it requires Flash and frames which aren't supported at WordPress.com – yes, I know, I should be Master of My Own Domain by now…) but you can link to it by clicking on the picture. Hope you enjoy-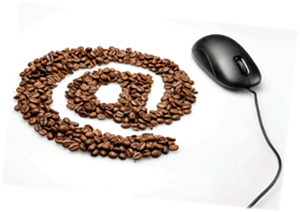 Resources:
http://en.wikipedia.org/wiki/Coffeehouse
http://www.weiner-kaffeehaus.at/geschichte.aspx
Original woodcut by Ferdinand Wuest
http://commons.wikimedia.org/wiki/File:Teenage_girl_texting_while_reading_a_manga_1.jpg
http://commons.wikimedia.org/wiki/File:Unibody_Macbook.JPG
http://commons.wikimedia.org/wiki/File:DJ_ICE_MAN.jpg
http://commons.wikimedia.org/wiki/File:Plasma_Flat_Panel_Mounted_on_a_wall.jpg
http://commons.wikimedia.org/wiki/File:Steve_Jobs_at_Apple_iPad_Event.jpg
http://commons.wikimedia.org/wiki/File:Man_and_a_MacBook.jpg